Kolby King
Minister, Performer & Speaker
For more than 20 years Kolby King served as a Southern Baptist pastor, youth minister and children's minister before God called him back into full-time evangelism. He is also a former writer for Lifeway Resources and the author of numerous books.
See videos, pastor references and more at www.330events.org.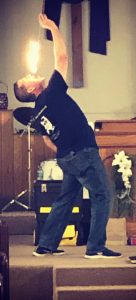 Kolby uses creative tools to share God's Word such as illusions, ventriloquism, fire-eating and other stunts along with Biblical preaching to visually illustrate God's truth. He is affiliated with Southern Baptist evangelists both nationally (visit his page HERE) and with the state convention of Oklahoma (visit his page HERE).
Kolby is available to share in any Bible-believing, conservative Christian church.
Click to visit Kolby's YouTube channel.